The importance of nutrition in medicine is increasingly being discussed.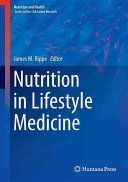 In response, a new book was compiled entitled Nutrition in Lifestyle Medicine edited by Dr. James Rippe. In it, my wife and colleague Dr. Michelle Bohan Brown and I wrote a chapter about "Critical Evaluation of Nutrition Research."
The chapter walks through a number of challenges in evaluating and communicating research in general and nutrition in particular. We try to keep the topic lighthearted, with the hope that encouraging critical evaluation will not induce unabashed cynicism.
After presenting a talk for the ConAgra Food Science Institute Nutri-bites Webinars organized by Dr. Rippe entitled, "In the Eye of the Beholder: Critical Evaluation of Nutrition Research," I was honored to be invited to contribute a chapter on a similar topic. This topic is one that Michelle and I have conducted research on, such as our paper about the reporting of the relationships between skipping breakfast and obesity. I was delighted we were able to work together again on this chapter.